Frequently Asked Questions
Let's Play 20 Questions – Your Library and SWAN
The following questions and answers are provided for library users migrating to our SWAN consortium. In 2018, SWAN welcomed 19 new libraries to the SWAN network. In January 2019, Green Hills Public Library District will be joining SWAN.
New SWAN libraries include:
1 – What is SWAN? Why do I see so many libraries in my search now?
SWAN is an organization formed by Illinois libraries and run by Illinois libraries. Its roots go back to 1974 when the network started with nine public libraries. Over the decades, the network has grown. The concept of SWAN is simple: every library has something unique or popular to share.
2 – How many libraries can I borrow from now?
Your library will be part of a much larger network of sharing libraries. There will be 92 public libraries to request material from or visit with your library card. SWAN also has collections from special and unique libraries such as the Sterling Morton Library at the Morton Arboretum, National University of Health Sciences, and The Theosophical Society in America.
3 – Will my PIN change?
PINs will transfer exactly as they are if your PIN is numeric. If your PIN is not numeric it will be changed to the last 4 digits of your phone number on record. If you do not have a phone number in your library record, please see someone at your library.
Once you are on the SWAN catalog, you will be able to request a new PIN if you have an email address associated with your library record.  If you do not have an email address associated with your library record, see someone at your library.
To change your pin:
1. Look for the link "Forgot your PIN?" in the footer of your library catalog search.



 2. Click "Forgot my PIN" on the log in screen.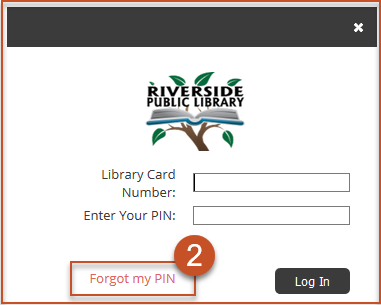 3. Enter your Library Card Number.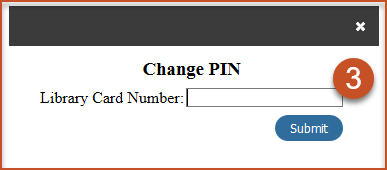 4. Look for email providing instructions on next steps. If you do not receive an email message, contact your library for assistance.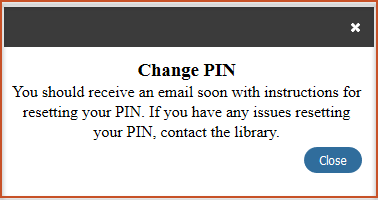 4 – Do I have to get a new library card? Will it still work at other libraries?
You can keep using your same library card. It will work with all of the other libraries in the SWAN network as well. Your library barcode will remain the same.
5 – Right now my search is the catalog is specific to my home library. When I do my searches now, will it still default to my home library?
Yes, the catalog your library is using will still show your home library items first in search results and retain your library's identification in the catalog banner. As a patron you can decide the scope of the catalog you wish to search, including only local items or all items in the full SWAN catalog, identifying those available from your home library on the search results page. Full details on a specific item will show all libraries that have a copy of the item when you search the full SWAN catalog.
The example below shows a search and highlights how items at your library will show on the search results page, with the option to View More Copies from all SWAN libraries.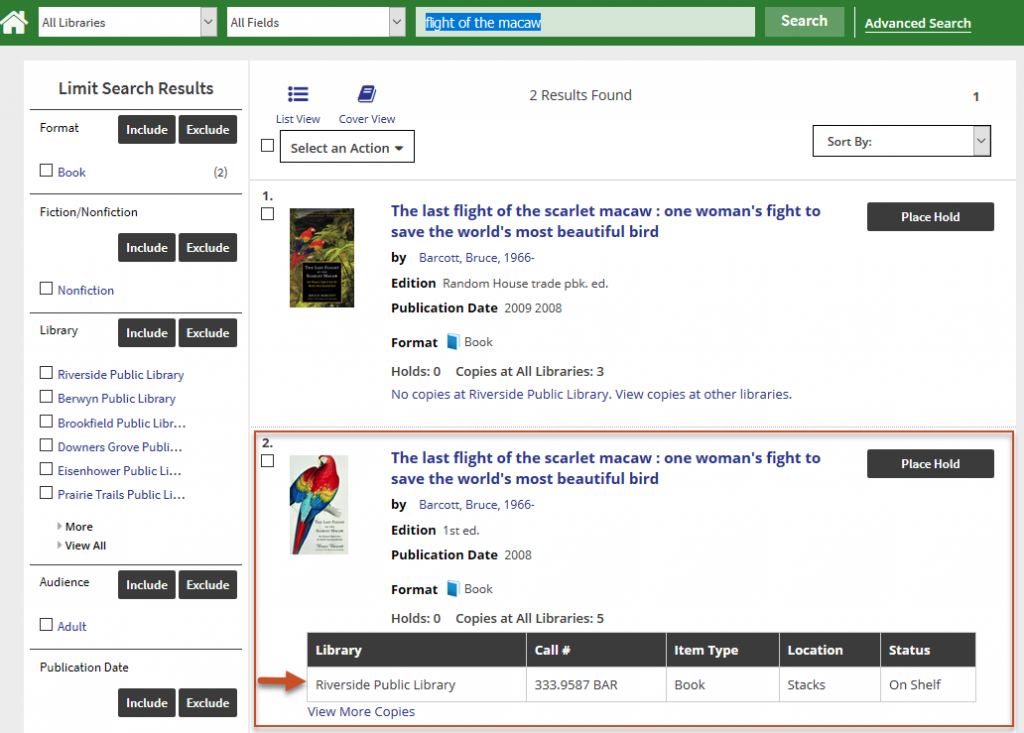 6 – Will the checkout history that I currently see in My Account > Checkout History still be available?
Yes, your checkout history will be migrated.
Also, if you use the My Lists feature, this information will be transferred after the system is live. Any lists that are currently saved in your online catalog account will be transferred to the SWAN catalog. Please note that while the titles will be retained in your list, you may find that Author and book images do not transfer. You can add the title with author and book cover images again by searching for the title in your list and adding it to your saved list.
7 – Will my materials still auto-renew?
Auto-renewals will continue based on library settings. If your library participates in auto-renewals, items you have checked out will auto-renewal as many times as allowed by your library, if eligible when no other patrons have placed a hold against that item. If there holds for the item then it will not be auto-renewed. Email notices are sent indicating which items were and were not renewed. Also, courtesy notices will be sent for items which are due and could not be renewed. Check with your library to see if they allow auto-renewals and if so, how many renewal periods are allowed.
8 – Does this affect eBooks?
No, your eBook usage should not be affected by your library transition to SWAN. There might be some disruption during our circulation system switch-over when we switch everything over, but everything should end up working as it has for you. Your barcode and authenticate for eBooks will remain the same once we have transitioned to the SWAN consortium.
9 – Will this change the delivery schedule? How long will I have to wait for a book, now?
Items requested from other libraries all follow the same process of moving to a central hub through the delivery system. This means that items coming from a longer distance do not necessarily take longer to arrive at your local library than a nearby library. On average it takes three days for an item to arrive at your library once it has become available.
10 – Where is the "I can't find an item in the catalog?" link? Can I still request items not in our "system"?
Each library has the ability to conduct searches and provide materials to library users for items that cannot be found in SWAN. We believe however, you will find that much of these special requests will instead be met easily through the larger SWAN consortium. The ability to request materials not available within SWAN is still available from your library catalog – see the Library Links menu.
Notifications:
11 – How will I be notified of holds for pick-up?
Hold pick up notices go out several times a day. Depending on your preferences for text messaging, automated phone message, email, or print, these notices will be delivered to you soon after your hold is filled. Pick up a brochure on notice preferences at your local library and watch this video.
12 – What email address will my notifications come from?
Email notifications are sent from sirsi@symphony.swanlibraries.net. We recommend allowing any email from *.swanlibraries.net to be accepted by your mail system.
To update your existing email address associated with your library record, watch this video or see someone at your library.
13 – Can I sign up for notifications in different languages?
Currently email and print notices are generated in English, Spanish, and Polish. The language selected is determined by your preferred language setting. By default, this language is English. If you would like to select Spanish or Polish, please contact someone at your library to change your language preference setting. This setting must be changed by library staff.
14 – What should Shoutbomb users know?
Shoutbomb has been a great system for many library patrons but is not supported in the SWAN consortium.

Instead notification preferences for bill, overdue, hold pickup notices can be managed through the library catalog My Account > Personal Information > Set Up Text Messaging > Edit SMS Notification. You can also enable manual messages and general announcements from your library to be directed to your text message enabled phone.
Loan Periods and Fines:
15 – How have the loan (or check-out) rules changed?
Loan and checkout rules should remain unchanged or very closely aligned with current practice. The circulation rules posted on your library's website should have these loan rules outlined. Keep in mind that you can visit any of the SWAN consortium libraries with your local public library card and check out items. The circulation rules of the library where the checkout happens are applied.
16 – Will my checkouts be the same if I borrow from another library?
The number of items you can check out is determined by your library. Which items you can checkout and the period of time for the loan, as well as fines, and auto-renewals are determined by the library you check the item out from.
17 – Will fines change?
Fines are determined by the library where you checked out items. This is usually your home library, so check with them.
18 – Will there still be Fine Free days at my library? (where applicable)
If your library currently has fine-free days, they will continue to honor them. This is a service provided for patrons and the library will continue to do so.
19 – Will renewals for materials and library cards still work the same way?
Yes, the renewal periods and automatic renewals (if your library is participating) will work the same for most libraries. Check with your local library for details on participation in automatic renewals and details on the loan period and number of renewals allowed.
20 – Does this raise my taxes/cost me more?
No! Your library was already participating in a library network like SWAN. Expanding your network of libraries extends resource sharing. When you check-out items at your home library, the length of time you get the item and the fine rate is the same as it has always been. No complicated rules to remember!